What Is Important To Have In A Good Frother Or Steamer?
There are several ways to prepare your favorite coffeehouse drink using a milk frother. Imagine not having to wait in line for your creamy latte or cappuccino because you can make it yourself. The first step in determining what the finest milk frother is for you is to decide what type of drink you'll be making with your foam. Then consider whether you want your beverage iced or hot. Lastly, each type of milk frother performs differently in each variety. If you select non-dairy milk or skim, you'll have to consider something else. Here is a list of what is needed in a put top-rated milk frother. Come and discover which are the best coffee frothers, hot chocolate frothers, and tea frothers.
Here Is Some Information You Need To Know About Milk Frothers
Countertop and handheld frothers are the two most popular types of frothers. These frothers aren't a part of an espresso machine, electric, or battery-operated countertop device. Handheld models can only foam milk if you've warmed it in the microwave, for example. A countertop frother makes the best method to produce the same sort of foam you get at a coffee shop, but if you want to go that route, we've included our favorite hand-held model.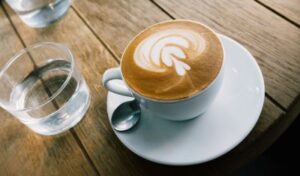 Differing Frothers Make A Different Kind Of Foam
Consider foam to be like shaving cream, and froth to be similar to bubbles in a bath. There will be a need for a machine that creates one-part airy foam on top. It will also need to make one part steamed milk if you enjoy cappuccinos. A silky, looser foam that is more pourable.
The Type Of Milk Is Important
Because of the greater fat content, whole milk is generally best with most milk frothers. Many high-quality frothers can also effectively foam reduced-fat milk. When it comes to non-dairy milk, oat milk works particularly well in frothers on the counter; almond milk, on the other hand, may contain too much natural oil for almost all frothers.
It Can Be Hot Or Cold.
If you prefer iced lattes, look for a frother with the ability to produce hot or cold foam. The most common handheld frothers are designed for creating a fast, chilly foam.
Hot Chocolate?
The milk frother can be used for a variety of things. It's possible to make creamy hot chocolate, silky matcha (though this method is rather unusual), and even steamers (steamed milk with taste) using bigger countertop versions.
There are many options you can get for your frother. Try to find the one that best fits your needs. Make sure you find the one that works with your type of milk. If you want a versatile frother, it's best to get one that can froth both low-fat and whole milk. Also, make sure you get a model without plastic parts because it might be dangerous if it overheats. Countertop and handheld frothers are the two most popular types. Available for frothers that aren't linked to an espresso machine, electric or battery-operated countertop and handheld frothers are available.
Below Is Our Top 5 Espresso Makers for Home:
That rich, foamy, creamy milk on top of your coffee can become a daily indulgence in your own home. Instead of spending money on a cappuccino from your local coffee shop, make your own coffee/tea with hot whipped milk in our Milk Frothing Machine. It's fast, fancy and delicious! This Cappuccino machine comes with a 700ml milk carafe which is exactly 3 cups of milk. Perfect for hosting a bunch of people for a nice coffee morning at your home or office. The stainless-steel milk frother cafe has a proper jug spout which means you can pour without splashing. The Souvia Automatic Milk Frother and Steamer Includes 2 different milk frothing whisks (1) is a Cappuccino frothing whisk which will give you a thick and creamy froth. (2) Is a Latte disc that is more of a thin froth for smooth silky milk. It is very easy to interchangeable by simply putting it in the center and it will magnetically click into place, A magnetic system will keep the disc safe while not in use. Do you like your milk Hot? Cold? Warm we all like the milk different temperature for other occasions, with the Souvia milk frother and steamer you can select the most suitable temperature to your milk, Souvia milk frother is not just Hot and Cold option, you can manually set the unit from cold up to 160 °f to fit your desired temperature
Review:
I spent hours researching and reading reviews. I found a lot of machines, and a lot of people wished they had done more research before buying their own. The hours of research paid off. This is exactly what we wanted: a machine that has a capacity for 2 people, that is made for daily use, and is easy to clean, with a container made of stainless steel. It works wonderfully. It produces a thick foam, uses magnets to stir the milk so there is no hole in the container, thus no place for leaks.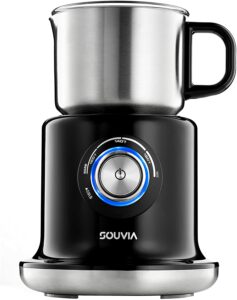 Designed to create thick and rich frothed milk for cappuccinos, steamed milk for cafe lattes, and frothy hot chocolate, the Capresso Froth Pro automatic milk frother produces professional quality results with a quick touch of a button. Three temperature settings — hot, warm, and cold — open up a variety of options for delicious beverages with a creative touch. This stand-alone appliance is an ideal complement to any coffee maker, espresso machine, or hot chocolate lover.
Review:
I bought this alongside a Nespresso unit for my husband this Christmas. I did my research before settling on this unit. He loves the gift, and I'm happy to report we get very hot frothy milk for fancy coffees and tea lattes almost every day. Would not hesitate to recommend this unit to others.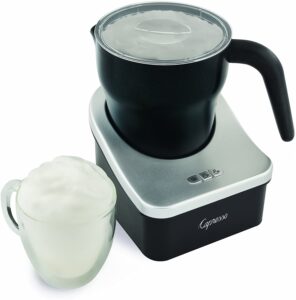 Milk Frothing and hot chocolate maker creates creamy froth for coffee, latte, cappuccino, hot chocolate, and other enjoyable, flavorful milk creations. Turns 250ml milk into creamy foam, twice the capacity of a basic milk frother. (Heated chocolate milk produces a small amount of froth) Heating whisk and frothing disks, for heating milk or creating hot or cold rich thick froth in minutes. One heating whisk can be securely stored magnetically on the bottom of the base. The stainless-steel milk cafe has a proper jug spout which means you can pour without splashing. Easy to clean removable dishwasher-safe milk jug and lid. The milk jug is easily removed from the base for cleaning.
Review:
This is a cute and useful little gadget. I have heated and foamed milk in it a couple of times now, and got the results I haven't been able to get with an electric whisk. I have one of the pitchers you pump, but I have to heat the milk separately for that. This made nice, thick, hot foam for my espresso drinks at the push of a button. I also heated water for soup and it worked pretty well for that. It doesn't boil the water, just makes it hot.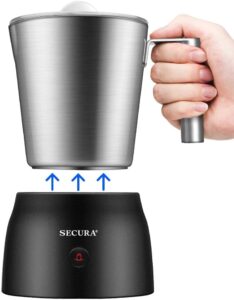 Dense Foam | Delicious lattes, cappuccinos, coffee, hot chocolates, macchiatos, and flat whites at the push of a button, effortlessly hot, warm, or cold milk with HERO milk frother. Large Capacity | Milk frother heats to 400ml (13.5 oz) milk for delicious hot milk chocolate or heat the milk. Also, this foam maker froths 250 (8.5 oz) for luscious latte cappuccinos. 3 Temp Control | The electric milk frother heats milk with a temperature setting (149°F, 131°F, Room temperature) to suit your taste. The ability to control the temperature makes for a superior coffee experience. Elegant Design | The exterior is creamy white and the design is very elegant. It is also a good choice as a gift. The body is small and only 17.5cm high, it will not take up a lot of your place, and the weight is very light, only 1kg, which is convenient to use. The separate design of the milk cup and the heating base allows the milk cup to be cleaned separately in the dishwasher, which is safe and simple.
Review:
I'm obsessed with Star Bucks cold brew blends but not the price or the calories. I've been looking for an affordable detachable milk frother. So I can experiment with my low-calorie version of the cold brews. This one has met all of the needs to make a large or small amount of milk. I love it because it does a great job even with almond milk!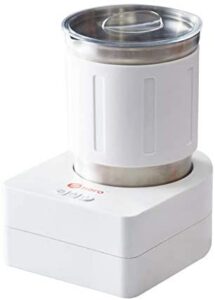 BODUM Bistro Milk Frother – Barista Edition was designed to make you a professional Barista without leaving your doorstep. It was never this easy to create a warm and delicious milk froth to add to your coffee. Now, you can make that perfect cup of coffee that you like, in your kitchen. Features a sleek design that auto shuts off when finished. This Milk Frother gives you the possibility to do hot froth, cold froth, simply heat your milk or do some hot chocolate. From lattes to cappuccinos, you will be able to do everything you like. It works with every type of milk.
Review:
I have used this frother for a few months. It made excellent foam, and I love that it's easy to clean, especially since the cup can go into the dishwasher – not many cans!