Why Do I Need A Coffee Grinder At Home?
It's difficult to return to the flavor of bad coffee once you've had a wonderful cup. While many elements impact the flavor, this includes the type of coffee maker you utilize, as well as the brew's temperature. Another key aspect is the freshness of the beans. It is one of the most vital factors and this is when coffee grinders come in.
What Is The Significance Of The Coffee Grinder?
Fresh, non-ground coffee beans have a significantly stronger flavor than ground coffee. Consider the pungent scent of freshly minced garlic versus that of a whole clove. Similarly, the fragrance will dissipate after longer if you leave the garlic cut for some time.
Coffee beans undergo the same process. Once they're ground and exposed to air, coffee beans begin to lose flavor. Personally grinding your beans ensures the greatest taste. This process brings about a precise regulation of the grind size. This is a significant selling point for people who like using French presses or making cold brews because it allows them to more finely adjust the grinding quantity.
What Are The Different Grind Sizes?
Changing the grind size for different types of coffee is a part of the enjoyment of brewing at home, although general grind size recommendations do exist. There are good reasons for using various sizes. Some grinders have symbols on them indicating different brew procedures. If yours does not, here is a short tutorial.
The grind size for every coffee brewing process:
Cold-brew
French press
The grounds in the French press are rather coarse. The reason is that the filter of a French Press would allow too many tiny particles to pass if ground finer.
Automatic Drip
 These coffee machines utilize medium-coarse ground coffee. When grinding a gallon and a half of coffee at once (for example, in a cafe), grind closer to medium-coarse so the water does not extract too much or become difficult to flow through.
Espresso
Espresso coffee is prepared under high pressure. It improves the extraction process. The pressurized water would just shoot through the coffee bed too quickly for an uneven espresso without that fine grind, which allows the machine to push those grinds extremely close together.
Turkish
Remember…
When purchasing a coffee grinder for your house, make sure that it can grind the type of coffee you need for your coffee brewing process. It's important to know the many sorts of coffee grinders so that you can brew the ideal cup of coffee. You should try a variety of coffee grinders to discover what works best for you and your taste.
Below Is Our Pick of the Top 5 Bean Grinders:
1. Breville BCG600SIL Dose Control Pro Coffee Bean Grinder
The Dose Control Pro delivers 60 precise grind setting for the finest Espresso to the coarsest French Press grind. The precision electronic timer allows you to adjust grind time in 1 second increments for a controlled dose. The stainless steel conical burrs are designed to minimize grinding heat and protect the essential oils in your favorite coffee bean. Now all that's left to do is explore the fine art of espresso extraction, practice your pour over skills, or maximize the flavor output from your drip coffee machine.
Review:
I bought this to upgrade from my hand grinder (which I love but it is too time consuming). I don't do espresso, just regular coffee. But I thought this would be a nice step up from the entry level grinders (like the capresso infinity or Baratza entry level one). I liked the idea of not having a bin for the grinds as those seem to contribute to the static problem. Right now I'm grinding into a glass but will eventually try grinding directly into my percolator basket. No static problem so far.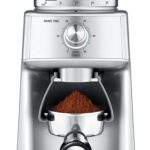 2. Huanyu Coffee Grinder Electric Flat Burr Grinding Machine
This coffee grinder adopts stepless fine-tuning technology, with a 19-position precision adjustment plate. Adjusting the grinding thickness, different types of coffee can be made, especially suitable for: Turkish coffee, Espresso, Moka, French press, Siphon, Hand brewed coffeeetc. It is the best choice for homes, offices, cafes and other leisure places. Both the bean funnel and the receiving container are made of food-grade material, which is safe and visible. The 35oz bean bin can hold up to 25oz coffee beans at a time to ensure the grinding quality. The 22oz receiving tank can hold up to 18oz of coffee powder at a time, and you can make about 36 cups of coffee. It greatly saves the time of adding, grinding. It is a good helper for family gatherings and cafes to make coffee! What's more, both are detachable for easy cleaning. The flat burr is made of stainless steel food grade material, the diameter of it is 60mm, can do cryogenic grindings. The ground powder is in the form of flakes and has a fine texture. Which make the coffee has a bright taste, a concentrated and strong flavor and aroma. 200w motor power, high grinding efficiency. The powder output speed is about 0.7oz/s, and it is recommended that the continuous grinding time preferably not exceed 15 minutes each time. The noise of different coffee beans varies with different thicknesses during grinding, which is about 90 dB, and is a normal level. At the same time, the overall design of the grinder is compact and stylish, which can well decorate the countertop environment.
Review:
Really nice grind to it. Really great product for the price. I would like to understand better the dial adjuster that allows me to choose between coarse and fine grind for coffee. Apart from that, it's been great so far!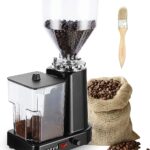 3. Fellow Ode Brew Grinder
A powerful, precise, and quieter home coffee grinder with café capabilities, Ode was designed to perfect your daily brewed coffee; grind grounds specifically for AeroPress, pour-over, French press, cold brew, and more. Grind what you need right before you brew with Ode's single dose hopper for maximum bean freshness; This coffee grinder has professional-grade 64 mm flat burrs that deliver consistently ground coffee beans. With 11 settings and 31 steps in between, easily adjust Ode's coffee bean grind settings; Use the low settings to get the perfect consistency and fineness for your morning pour-over, or go for a more coarse grind to make a rich, robust French press or cold brew. Ode transforms a morning chore into a quicker, quieter, and more enjoyable coffee-making experience; This sophisticated and modernly designed coffee grinder will turn your countertop into a barista's coffee corner
Review:
The newest version (v.1.2) comes with updated burrs with finer grains. I couldn't find much information about this, but the new burrs Fixed what many YouTube reviews complained about. I have been really surprised to not hear more people talk about the new burrs which now come stock from factory upon purchase. I reached out to fellow about this and they said that they have a 2.0 set coming out which will also come stock, and be a $40 upgrade for anyone looking to switch out from an earlier model. FYI I make poor overs with high end, light roast coffee's and have had no problem getting the right size grind with my 1.2 burr grind set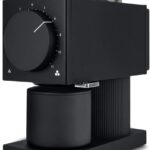 4. Breville BCG820BSS Smart Grinder Pro Coffee Bean Grinder
Breville's Smart Grinder Pro features Precision Digital Time (adjustable in 0.2 sec increments) to give you Complete control over dose and grind time. The perfect coffee needs a precise amount of freshly ground coffee beans. But adjustments in grind size require different grind times to achieve a consistent dose. Choose among 60 different grind settings to achieve maximum flavor potential to suit your favorite brew. Grind settings allows you to go from the finest Espresso to the coarsest French Press. Further extend the grinding range by tuning the adjustable Upper Burr to either coarser or finer without the use of tools. The Breville Smart Grinder Pro automatically doses the same every time you grind making it easy to achieve a consistent dose.
Review:
The Breville SGP is an excellent overall grinder, with incredible ease of use, AMAZINGLY accurate timed-dosing, and a well rounded feature set. There are so many well thought features on this grinder, it is hard to mention them all.. from the magnetic catch tray which allows you to easily dump off any stray grinds for a quick cleanup, to the easy to read, large LCD display, to the 60! grind settings (and even more if you adjust the outer burr), to the programmable grind times for each brew type, etc.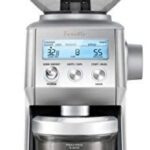 5. Urbanic 070s Electric Coffee Grinder
Coffee bean flour flying Protection Lid. Coffee bean basket / More durable than stainless steel Superior titanium burr in thermal conductivity / Our grinder provides a free warranty period of 6 months in any country, and we inform you that even within the free warranty, AS cases due to customer negligence can be handled for a fee. The product shipped to the US is 110v.. (You can change 220v on separate request) It is a product that can be delivered directly from Korea. fast delivery We send it using the EMS system. (Event) Titanium burr orders are much higher in the US market. Customers who order titanium burr will receive a random gift from a cleaning brush or a 100g stainless steel bean container.
Review:
The grinder shipped quickly and was well packaged. Assembly was minimal and easy. Operation was straight forward and grind adjustment was easy and consistent. noise was much less than the "Chopper" style grinder this unit replaced. Very Happy with the unit!