Steps for Becoming a Professional Barista
If you are reading this article, you likely have an affection for coffee. You enjoy the aromas and flavors of coffee shots in espresso machines. You pour hot water over mountains of finely ground beans to produce a rich cup of black gold which you can then pour into glasses to create latte art. Perhaps you drink iced coffee all year long, or you make coffee drinks at home for family and friends.
However, most people only drink the brewed beverage to get an energy boost – they do not pay attention to the artistry involved in making their everyday cup of coffee. But maybe you are more than just a typical caffeine addict; perhaps you have a passion for coffee that is not just about drinking it.
The steps to become a barista aren't complicated, but it does take some time and effort. To make the transformation from coffee lover to coffee professional, there are a few basic steps that you need to take:
Learn everything you can about coffee.
Experiment at home.
Get hands-on experience by working in a café.
Sharpen your social skills.
Practice makes perfect.
Becoming a barista can fulfill that passion and turn it into a career, allowing you to develop your skills and knowledge about coffee. If you are considering making this path part of your future, this article will help you take the first steps as well as give you the best advice for finding success as a barista!
Let's go over these steps in more detail and before you know it, you will be ready to enter the world of coffee as a professional!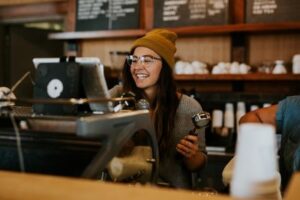 Knowledge Is Power
The best place to start is by learning everything you can about coffee. If you want to be a barista, you need to know about all aspects of the coffee production process. These things include:
knowing all the different kinds of beans and how they are produced
the geography of coffee-producing countries
the different kinds of machines for coffee brewing
the difference between blends, single-origin beans, and flavored coffees
how to identify the flaws in a cup of brewed coffee
how to fix those problems by using tools like scales, PID controllers, timing devices, steaming
Luckily, there are many resources available to help you gain this knowledge. Books, online courses, and even coffee festivals can provide you with the information you need to become a coffee expert. The more knowledge you have about coffee, the better equipped you will be to make delicious drinks and discuss coffee with your customers.
Trying All The Drinks
Even though you love coffee, it is quite alright if you don't drink every type out there. You are probably like most people and have your few favorites you stick with. However, to be a successful barista, it is a good idea to try several different types of drinks. The more styles and flavors of coffee you are familiar with, the better you can help your customers.
Whether the customer is new to coffee or wants something new, you will be able to guide them to the perfect cup! I know it's a lot to try every single kind of coffee, especially in the beginning.
Here is a list of ones you definitely should try to get a well-rounded palate:
espresso iced coffee
iced espresso Americano
cappuccino
latte macchiato
flat white cappuccino
latte
mocha
caramel macchiato
mocha latte
Do not be discouraged if you do not like a particular type of coffee at first. I know it can take some time to develop a taste for coffees outside your comfort zone! However, keep trying different types because that is the best way to become a true connoisseur of coffee.
Experimenting For Yourself
Along with tasting a wide variety of coffee drinks, you also need to practice making them of course! While you can do this working at a cafe', you can also do it at home too.
Most drinks can be made at home and it will give you a fun opportunity to experiment. Try out different beans, ratios, and brewing methods to see what you like the best. Not only will this help you become a better barista, but you might also find a new favorite coffee drink!
This will also give you practice in troubleshooting when a drink goes wrong. Maybe you didn't froth the milk enough or you let the coffee brew for too long. Practicing at home will help you fix these common mistakes so you don't make them when you are working at a café.
Experience Is Key
Once you have learned all there is to know about coffee, it's time to get your feet wet and start working! If possible, try to work at a café that has specialty coffee drinks like lattes or cappuccinos. It will be much easier for you to hone your skills if you are working with more complicated drinks.
It is also a good idea to try different positions in the café. This could mean moving from working the cash register to brewing coffee to preparing drinks. By doing this, you will get a better understanding of how the whole café works.
Working at a café is one of the best ways to gain experience. You will learn so much about coffee and you will also be surrounded by other people who are passionate about this topic!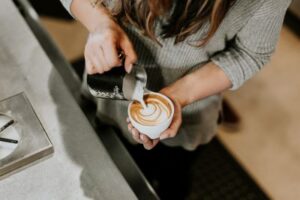 The Hidden Talent
Besides the obvious knowledge of coffee, a good barista also has impeccable social skills. You need to be able to interact with customers, take orders, and work as part of a team to successfully run the café. Besides good work ethic, the most loved baristas always have great personalities.
This isn't something that can be learned overnight. With practice and self-awareness, you can improve your people skills. A few of the top loved traits of a good barista include (but aren't limited to):
being friendly and welcoming
having a great sense of humor
knowing how to make a customer feel special
showing genuine interest in their day
remembering names of regular customers
Working on these people skills will make you stand out as a barista. These skills will not only build positive customer relationships, but they will also give you good graces with your employer too!
Practice Makes Perfect
No matter how much you love coffee, nobody becomes a successful barista overnight. It takes a lot of hard work, dedication, and passion. It's not an easy job, but it is rewarding! Practicing your coffee and social skills will pay off eventually.
So, if you're thinking of becoming a professional barista, remember these key points:
learn about all different types of coffee
taste as many coffee drinks as possible
experiment with making coffee drinks at home
gain experience working at a café
work on your people skills to create positive relationships with customers and employers!
By following these steps, you'll soon be well on your way to becoming a professional in the huge world of coffee!
How Long Does It Take To Become A Barista?
There is no definite answer to this question as it depends on each individual's level of expertise and experience. However, with enough dedication and hard work, most people can become professional baristas in a few years. Of course, there are several ways to speed up the process.
If you already have connections, a job at a cafe, or have perhaps taken classes on the topic, the process will be much shorter. However, it is best not to rush this process. Being a barista is as much an art as it is a skill, so take your time!
How Well Are Baristas Paid?
As with any job, the pay varies depending on your location, level of experience, and skill. However, it has been found that baristas are paid very well for the education they receive on the topic.
The average salary is anywhere from $8-$14 an hour. On top of that, many baristas can earn tips. Having great social skills and work ethic translates to more tips, which is why I mentioned the importance of those!
How Many Hours a Week Do Most Baristas Work?
Depending on the location, most baristas work around 20-35 hours each week. More opportunities exist during busy seasons (like holidays).
Some baristas might even work 40+ hours a week. If you are working for a big company with multiple locations, chances are that you will be expected to travel between them.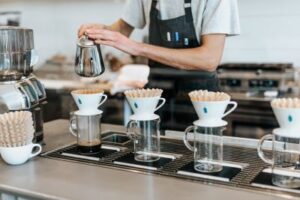 Where Do You Find Jobs As a Barista?
There are a few different ways to find barista jobs. The most common place to start is by looking online. A quick Google search will pull up several job listings.
Another way to find work as a barista is by networking with people you know. If you have friends or family who are already in the industry, they might be able to help you find a job.
Finally, many cafes are always looking for new baristas. Walking in and asking for an application is the easiest way to get your foot in the door!
Also, in case you were wondering, the most in-demand cities for baristas are:
Portland, Oregon
Seattle, Washington
New York City
San Francisco, California
Los Angeles, California
Bigger cities with lots of working people who need coffee are always in high demand for talented baristas! Also, college towns are a great place to look as well.