How to Make a Great Latte
Want to make your morning coffee, but it somehow just never tastes as good as the Starbucks down the road? Here is how to make the perfect latte like a barista.
Do you love your morning cup of coffee? Love to relax in the morning with a latte or cappuccino? More than likely, you are very particular about how it is made. And why shouldn't you be specific? There may not be many things in this world that can bring this much happiness into your life, like a good cup of coffee can. Here is an article on how to make them yourself!
Step By Step Process for Making Lattes
You will need milk (preferably whole), espresso beans, an espresso machine, and common kitchen appliances such as handheld milk frothers, milk pourers, and measuring cups.
First, you'll want to grind up the espresso beans until they are a fine powder. If you don't have an espresso machine, you can purchase pre-ground espresso beans at most grocery stores.
Next, heat the milk in a pot on the stove until it is hot but not boiling.
Pour the ground espresso beans into the portafilter of your espresso machine and tamp them down firmly. This will ensure that your coffee extractions are even and consistent.
Turn on your espresso machine and let it brew for about 20 seconds.
Remove the portafilter from the machine and pour the hot milk into it, using a spoon to help mix the two.
Finally, use a handheld milk frother to create a thick, foamy milk top. If desired, you can also use a milk pourer to create swirls in the milk.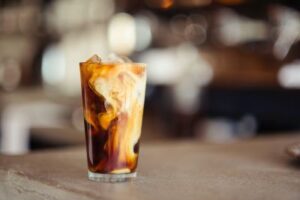 There you have it – your perfect at-home latte! With a few simple steps and some common kitchen appliances, you can easily replicate your favorite coffee shop drink at home.
So next time you're feeling a little sluggish, skip the line and make your latte right in the comfort of your kitchen. Your taste buds (and coworkers) will thank you!
Using The Right Kind Of Milk
First of all, what kind of milk should I use? Stick with whole milk if you want your drink to be luscious and delicious, but if you're trying to watch calories, then lower-fat kinds of milk are acceptable.
Do not use skim milk or 2% milk. They will curdle in the steam of your espresso machine, making a clogged steamer wand and an awful taste.
Using The Right Amount of Milk
Now that you have the right kind of milk, how much do I need? You're going to need about one ounce for each shot of espresso you intend on pouring. You can adjust this based on your preferences for taste and strength.
Do not put more than two shots in at once unless you enjoy stretchy foam! Also, remember to account for the size of your cup when adding the milk, so it doesn't overflow.
Getting The Perfect Latte Foam
And now the most important part: getting that perfect foam! This is usually called "microfoam" since it is so tiny. It also makes the difference between an espresso looking like chocolate milk and your standard latte art.
Using a Steam Wand
Start by heating the milk in the bottom of your pitcher or container. Place it right underneath the steam wand while holding down the button to begin steaming.
When you see bubbles start to form on top of the milk, stop moving it around! If you are still moving it around at this point, the chances are that you have no hope for microfoam.
When there are about two inches left before reaching the top of your pitcher/container, turn off your steam wand and sauce out any excess water vapor. Try not to let the wand touch the milk itself, as this will cause it to lose heat, and your foam will not be as thick.
Some Tips for a Perfect Latte
Even if you follow all of these steps to a T, some other factors can affect the quality of your latte. Make sure to add the milk first and then add espresso. If you add the shots after steaming the milk, they will not mix evenly, and you'll end up with a very different-tasting drink.
If you find it challenging to get all of your espressos in one shot because of pressure, try tapping on your machine lightly or moving it a little bit from side to side. This should help give more room for steam and make things easier if you make multiple drinks at once.
Remember that specialty drinks like this require patience – if you want something amazing, allow yourself time to practice until perfection!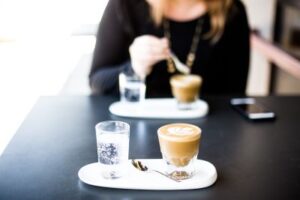 The Perfect Coffee Brewing Process
Brewing coffee at home is a great way to save money and enjoy a delicious cup of coffee made just the way you like it. The following are some tips on brewing a perfect cup of coffee at home.
The first step is to choose the right coffee beans. There are many different types of coffee beans available, so you can select the ones that best suit your taste. You can find whole beans or pre-ground coffee in most grocery stores.
The next step is to measure the correct amount of coffee beans. Most recipes call for between 2 and 3 tablespoons of ground coffee per cup of water. If you're using whole beans, you'll need to grind them yourself before adding them to the water.
The next step is to heat the water. You can use tap water, but filtered or bottled water will produce a better cup of coffee. The water should be heated to between 195 and 205 degrees Fahrenheit.
Once the water is hot, add it to a pot or French press and add the coffee beans. Stir the beans around with a spoon to evenly distribute them, and then let them steep for 3-5 minutes.
After the beans have steeped, use a strainer to remove them from the water. If you're using a pot, pour the coffee into cups now. If you're using a French press, slowly push down on the plunger to extract the coffee.
Enjoy your delicious homemade cup of coffee!
Benefits Of Making Your Coffee At Home
There are a lot of benefits to making your coffee at home.
It Saves You Money
If you're tired of overpaying for store-bought coffee every morning, making your own is a great solution. It is cheaper than buying coffee from a café or store.
You Can Customize It To Your Liking
Brewing your coffee gives you the power to adjust it however you like it. You can add whatever ingredients you want and adjust the strength and flavor to your preferences.
Avoids The Extra Preservatives
Finally, brewing your coffee allows you to avoid all the unhealthy additives and preservatives that often find their way into store-bought coffee. It lets you make sure the drink is fresh and full of healthy ingredients.
So if you're looking for an affordable, customizable, and healthy way to start your day, make yourself a cup of homemade coffee!
The Benefits Of Coffee
Coffee is one of the most popular drinks globally, and for a good reason – it's delicious! But coffee isn't just a tasty treat; it also offers a range of health benefits. Here are five reasons why you should drink coffee every day:
1. It Gives You An Energy Boost
If you're struggling to get out of bed in the morning, coffee can help give you a much-needed energy boost. The caffeine in coffee helps stimulate your central nervous system. This can help improve your focus and concentration.
2. It's Packed With Antioxidants
Coffee is an excellent source of antioxidants, which can help protect your body against disease. Coffee drinkers may have a lower risk of developing conditions like type 2 diabetes, Parkinson's disease, and liver cancer.
3. It Protects Your Brain
Recent studies have shown that coffee may even help protect against Alzheimer's disease. The caffeine in coffee helps block the effects of adenosine, a chemical that can damage cells in the brain. This means that coffee may help prevent the onset of Alzheimer's Disease.
4. It Keeps You Healthy
Drinking coffee has been linked with several health benefits, including a reduced risk of heart disease, stroke, and depression.
Coffee drinkers have been shown to have a lower risk of developing type 2 diabetes and liver cancer. Research has also shown that those who drink three or more cups of coffee a day are less likely to develop gallstones.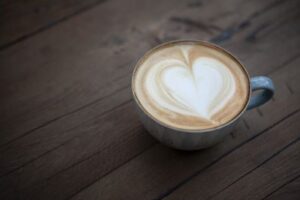 5. You Can Save Money
If you buy your favorite blend from an independent roaster – instead of a large chain – you could save yourself some money in the long term. By going directly to the source, buying local, and avoiding branded products, you'll pay much less for your daily caffeine boost than if you were to buy it from a high street store every day.
Follow all of these tips and you will be making coffee like your favorite barista in no time!