Coffee is not only delicious but also coffee has healing properties. Studies have shown that drinking coffee regularly may improve cognitive function as well as reduce and lower the risk of obesity, type 2 diabetes, heart disease, and stroke. Also, it's high in antioxidants and other beneficial compounds that can help boost your metabolism and provide energy for physical activity. Additionally, coffee is a great ally in your weight-loss efforts, as caffeine is known to increase thermogenesis which helps burn fat faster. Also, coffee may help suppress appetite by regulating levels of hunger-inducing hormones like ghrelin. Furthermore, regular consumption of coffee can help improve digestion, leading to better absorption of nutrients from food–which can then promote weight loss over time. So, are you wanting to lose weight? Here are 9 of the best ways to drink coffee with fewer calories:
Cold Brew Coffee
Black Coffee
Low-Calorie Sweeteners
Espresso Shots
Substitute Soda for Coffee
Cinnamon & Honey
Add Low-Fat Milk or Milk Alternatives
Use Whipped Cream Alternatives
Use Sugar-Free Syrup
So, now that you have an idea of the best ways to drink coffee with fewer calories, let's examine each of the different ways to drink coffee in greater detail. No matter what your caffeine preferences are, there are plenty of ways to get a great cup of coffee with fewer calories. From cold brews to espresso shots, you can enjoy the flavor and energy boost of coffee without having to worry about extra calories. So why not give one (or all) of these options a try? You might be surprised at how much you enjoy it!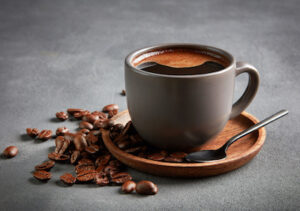 1. Cold Brew Coffee
Cold-brew coffee is a great option for those looking to reduce their calorie intake. Unlike traditional hot coffee, cold brew does not involve any additional cream or sugar and can be enjoyed as-is for a low-calorie pick-me-up. It also has a smoother flavor than regular hot coffee, so it can be an enjoyable alternative drink to get your caffeine fix.
Cold brew coffee is a great alternative to traditional hot-brewed coffee because it has several benefits. First, the low-temperature brewing process results in a smoother and less acidic cup of coffee that's easier on sensitive stomachs. Additionally, cold brew retains more of its natural flavors due to the longer extraction process, giving you a fuller-bodied taste than regular brewed coffee. Finally, cold brew coffee also produces significantly less caffeine so you can enjoy your favorite drink without feeling over-caffeinated. If you're looking for an easy way to get your daily dose of caffeine without any stomach discomfort or jitters, cold brew is definitely worth trying out!
2. Black Coffee
For the purist in all of us, black coffee is the most straightforward way to enjoy this caffeinated beverage with minimal calories. Since black coffee doesn't have any added creams or syrups, it is one of the better options when you're watching what you eat and want to reduce your caloric intake. Black coffee is better for you than its sugary counterparts because it contains fewer calories and no added sugars.
Coffee naturally contains antioxidants, which can help protect against cell damage and help reduce inflammation, as well as compounds that may have beneficial effects on heart health. Additionally, black coffee has also been linked to improved cognitive function and reduced risk of certain diseases. The health benefits of black coffee are even further increased when consumed without any additional sweeteners or creamers. So next time you reach for a cup of joe, opt for the plain version – your body will thank you!
3. Low-Calorie Sweeteners
If you prefer to add a little sweetness to your coffee, opt for low-calorie sweeteners such as stevia or Splenda instead of traditional sugar or creamer. This way, you can still enjoy the taste and flavor of your favorite cup without having to worry about unwanted calories. There are several options when it comes to low-calorie coffee sweeteners perfect for those who want to enjoy a sweeter cup of joe without the guilt.
These Low-Calorie Sweetener Options Include:
Agave nectar is one option, made from cactus-like plants and harvested in Mexico. It has fewer calories than sugar but also a much lower glycemic index. Agave nectar is available in light or dark varieties and can be used in both hot and cold drinks.
Honey is another natural sweetener with fewer calories than sugar, but because of its high glycemic index, it should be used sparingly. It's great for adding sweetness to teas, coffees, and other beverages that don't need boiling water or heat to dissolve.
Stevia is a good option for those who are looking for an artificial sweetener with little to no calories. It's derived from the stevia plant, and it has a slightly bitter aftertaste. Stevia is available in both liquid and powder forms and can be added to hot or cold beverages.
Erythritol is another great low-calorie coffee sweetener that doesn't have any aftertaste. It's made from fermented fruits and vegetables and has zero calories per teaspoon. Erythritol dissolves easily in liquids without having to be heated, making it perfect for adding sweetness to coffees, teas, smoothies, and other cold drinks.
Xylitol is a type of sugar alcohol that's also low in calories and has a slightly sweet taste. However, it can cause digestive issues if consumed in large amounts, so it should be used sparingly. Xylitol is available in both powder and liquid forms and can be added to either hot or cold drinks.
All of these low-calorie coffee sweeteners are great options for those who want to enjoy the sweetness of their favorite beverages without going overboard on calories. By understanding the taste differences between them and how they dissolve in liquids, you'll be able to decide which one is best for your needs.
4. Espresso Shots
An espresso shot may not be the most common way to consume coffee in the morning, but it's a great option when you're looking for a quick burst of energy with fewer calories. A single shot provides less than 10 calories and is perfect for those days when you need an extra boost in the afternoon or evening hours. Espresso shots are a great alternative to coffee drinks for those who are looking for a quick, low-calorie caffeine boost. Unlike regular coffee drinks, espresso shots contain less water and fewer calories than your standard cup of joe.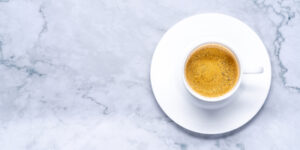 Additionally, espresso contains more caffeine than brewed coffee, making it the perfect pick-me-up if you need an extra jolt of energy. The concentrated flavor of espresso also makes it a popular choice among coffee connoisseurs looking for a robust yet refined flavor experience. By using an espresso shot in place of traditional ground coffee when creating specialty drinks like cappuccinos or macchiatos, baristas can craft delicious caffeinated beverages with just the right amount of richness and aroma. Whether seeking a quick jolt of energy or looking for an elevated coffee experience, espresso shots offer something for everyone.
5. Substitute Soda for Coffee
If you find yourself reaching for a sugary soda every day, try substituting it with coffee which is a much lower-calorie alternative! Sugary sodas can be bad for your overall health as well as your dental health, so trying coffee instead can be a great way to reduce your sugar and caloric intake.
6. Cinnamon & Honey
All you need to do is mix 2 tablespoons of honey with 1 teaspoon of cinnamon powder and add it to your cup of coffee. This will give the coffee a unique flavor while cutting back on calories and sugar.
7. Add Low-Fat Milk or Milk Alternatives
You can make your coffee healthier by using low-fat or skim milk instead of whole milk. It has fewer calories than whole milk but still adds a creamy texture and sweetness to your coffee without adding extra sugar.
Milk alternatives for coffee include almond, coconut, oat, and soy milk. All of these kinds of milk are dairy-free. Thus making them a great option for those who are lactose intolerant or vegan.
Almond milk has a nutty flavor that pairs well with the flavors of coffee. While coconut milk adds sweetness to your latte. Oat milk is also becoming increasingly popular due to its creamy texture and natural sweetness.
Lastly, soy milk is rich in protein and calcium which makes it a great choice for an energizing cup of joe. Ultimately, all of these non-dairy options can add delicious flavor and nutrition to your coffee drink. So grab one the next time you find yourself at your favorite café!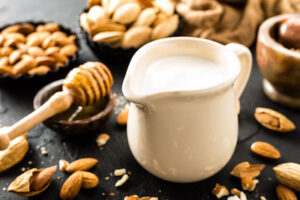 8. Use Whipped Cream Alternatives
Instead of using heavy cream or whipped cream, try alternatives like fat-free cool whip or coconut cream for topping off your cappuccino or latte. These substitutes are much lower in calories and can still add a delicious flavor to your coffee.
9. Use Sugar-Free Syrup
If you're looking for an alternative sweetener, try sugar-free syrup. It's a great way to cut back on calories while still enjoying the same sweetness as regular syrup. You can find sugar-free syrups in many flavors including vanilla, hazelnut, and mocha – perfect for spicing up your morning coffee!
Conclusion
These are just some of the ways you can enjoy coffee with fewer calories. All while still getting the same great taste and satisfaction that you would from a full-calorie cup of coffee. Now go ahead and start experimenting with different recipes – you'll be surprised at what you enjoy!